Disclosure: We receive a small commission on purchases made through the affiliated links on this page.
You need technology to operate your business
Start-ups and small companies (basically all companies) need technology in order to operate in the current business environment. From communication (email) to productivity (shared files) or financial (accounting) and administrative (project management) tools, you cannot really operate a business solely with pen and paper.
According to HubSpot, (B2B tech, but not only), start-ups need a series of tech tools that fall into 5 core categories in order to properly operate and be able to go to market: Finance & Administrative, Communication, Sales, Marketing, and Customer Service. Even as a solopreneur, you need some basic admin tools, such as document and data storage tools, invoicing and accounting software, and maybe project management, and time tracking.
You need technology to go to market
If you have several employees or communicate with your clients, you need communication and collaboration tools. Alongside email, which still is the core communication platform of businesses worldwide, these others could be a shared file system to share documents with the team, a calendar tool to schedule meetings with clients or with colleagues, or a video conferencing tool now that remote work has become an integral part of our world.
If you're already going to market with your products or services, you will need tools to help you manage this process. You should manage your contacts in a CRM, have a pipeline process, stages, and a tool to manage that (your CRM again), and be able to communicate with your prospects and clients in a collaborative way (ideally in your CRM) so that your team is aware of everything that happens with each client.
You need to have a company website as this is the main way prospects and customers are finding out about you. You will want to know how prospects find your website so you will need to look into search engine optimization tools. If you're generating leads online for your business then the website becomes even more important, as well as the data flow between your website forms and your CRM. You will want to measure website performance so you will need some tracking and analytics tools for that. You will want to reach out to prospects through social media or ads so you will need to have some social network pages and ad accounts.
If you already have a few clients that need to interact with you periodically, you will probably need a way to manage their support requests. You could build an FAQ page on your website or a knowledge base and you could have a live chat on your website so visitors can interact with you. You might need a ticketing system to manage customer requests in an ordered and transparent manner. You will probably want to be able to measure and analyze this activity as customer satisfaction should be your main KPI.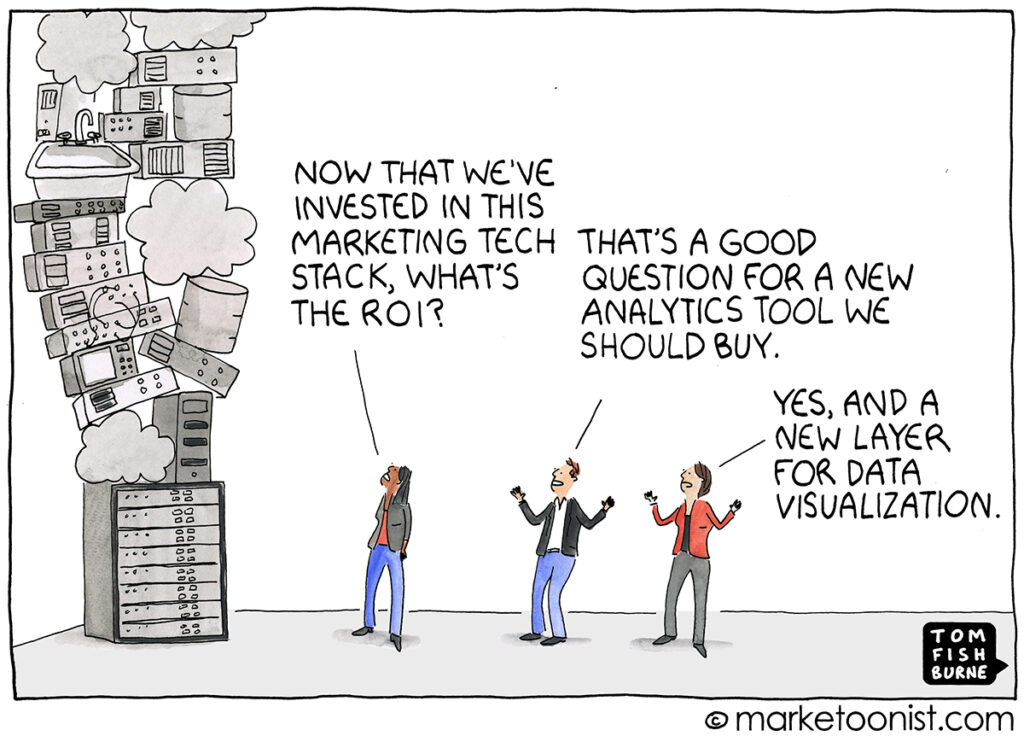 Tech stack challenges
Most small companies and start-ups I worked with have never managed to put together, use efficiently and integrate the above tool stack or any other similar one, mainly because of lacking the internal skills to do so as most of these tools are free to use. Most of the time these tools were either disconnected or used in silos by different teams as they saw fit. As these companies grow, managing a complex, fragmented, and disconnected tech stack becomes a significant burden in their growth process. Hence, it helps to start on your business journey having in mind an integrated tech stack strategy.
Many people consider that a company needs to be of a certain size (for example, 5-10 sales reps or more than 100 employees) before getting started with Revenue Operations. In my opinion, you can start with a basic RevOps framework as an early-stage startup (seed or pre-seed funding stage) or even as a small company without any external funding. Building your company's go-to-market tech stack with RevOps in mind will reduce a lot of the potential headaches in the future.
While RevOps-focused technology abounds, such as the well-known HubSpot CRM or Salesforce platforms, the main challenge to deploying and effectively operating a GTM or RevOps tech stack is usually the lack of skills or the lack of internal resources. There are multiple options to solve this: either ensure such skills exist internally in your team or that you outsource them from freelancers or agencies. The most important thing though is to start with a RevOps strategy in mind as you start planning to go to market.
The $500 / month tech stack
To illustrate what I consider an effective early startup tech stack I've put together a list of the core business needs a company has (or can have), in my opinion. Alongside the HubSpot CRM, my RevOps platform of choice, the below list includes the most common as well as the most cost-effective tools available for those needs (most are free to use or open source) and their estimated monthly cost. Please keep in mind that the cost listed is the cost of the tool or the technology, not the cost of using it or the cost of other related activity enabled by the tool (i.e., media budget for paid ads platforms or content creation for social media or website design and development).
| Business Need | Tech Tool / Platform | Monthly Tech Cost |
| --- | --- | --- |
| Web infrastructure | Amazon Web Services / Digital Ocean / Other similar | 0-50 USD / month |
| CMS | HubSpot / WordPress / Webflow / Other similar | 0-50 USD / month |
| CRM | HubSpot CRM Starter Bundle | 50 USD / month |
| MAP | HubSpot Marketing Hub (included in Starter Bundle) | 0 USD / month |
| Sales | HubSpot Sales Hub (included in Starter Bundle) | 0 USD / month |
| Customer Success | HubSpot Service Hub (included in Starter Bundle) | 0 USD / month |
| Data & Analytics | Google Tag Manager & Analytics | 0 USD / month |
| Reporting & Dashboards | HubSpot (included in Starter Bundle) / Google Data Studio | 0 USD / month |
| SEO | Google Search Console / SEMRush / aHrefs | 0-120 USD / month |
| SEM (no media budget) | LinkedIn / Google / Facebook Ads | 0 USD / month |
| Social Media | LinkedIn / Facebook / Twitter / Instagram / Other similar | 0 USD / month |
| Productivity (10 users) | Google Workspace / Microsoft 365 | 60-120 USD / month |
| Project Management | Asana / Basecamp / ClickUp / Airtable / Other similar | 100 USD / month |
| Collaboration (10 users) | Slack / Microsoft Teams / Zoom / Other similar | 100-150 USD / month |
| Process Automation | Zapier / Make / IFTTT / n8n / Airtable / Other similar | 50-100 USD / month |
| | Monthly Total | ~ 500 USD / month |
While the above Revenue Operations tech stack is highly opinionated, as it uses the HubSpot CRM platform at its core, it can also scale in functionality, as well as cost, as the company grows. The HubSpot CRM Starter Bundle is the main reason this affordable RevOps tech stack exists in the first place, as it includes all the go-to-market tools needed for a small company or an early-stage startup. You can build your website on the HubSpot CMS (even in its free tier now), nurture your prospects with the Sales Hub, onboard your clients with the Service Hub, and run your marketing activities with the Marketing Hub while optimizing everything with the Operations Hub.
Q: What do you call (or which title do you give) to the person who makes your tool stack work. The person who is the G-Suite, Hubspot, Slack, DNS, etc. administrator… ?

A: A wizard! Indispensable! Operations wizard!

Pavilion community discussion
It often takes a wizard to manage even a simple tech stack because the needed set of skills spans across multiple business functions. These people need to know how networks and the Internet work to understand domain names and how they should be configured for email, tracking, websites, or other similar needs. They need to be tech-savvy to manage email, productivity, communication, project management, or other similar tools. They need to know digital marketing to understand SEO, SEM, performance tracking, social media, and managing a website. They need to understand at least the basics of sales, marketing, and customer support in order to set up and onboard companies on a CRM platform, like HubSpot. They also need to know some data analytics to help with performance reporting.
As you can probably already experience if your company is at the beginning of its journey, it's not easy to find such a widely skilled person to work for a startup because they might already be doing freelancing or running their own company. This was my professional path progression as well, moving from an employee to a freelancer and then starting a services agency, after developing my skills in all these areas. After more than 20 years, the result of my professional experience was my becoming a full-stack marketing technologist and my recent focus on Revenue Operations and this RevOps Careers project.