This is probably one of the most disputed topics in the RevOps communities, alongside with which technology to use for various RevOps needs (see the eternal HubSpot vs. Salesforce CRM debate). Like with the tech stack, there's no perfect RevOps team setup either. Depending on the company size and the GTM team structure, there are multiple roles that the RevOps professionals report to.
There's no perfect RevOps team structure
In my opinion, the ideal Revenue Operations team should report to the CRO (Chief Revenue Officer), which in turn reports directly to the company CEO. However, the company must be big enough to have a CRO and, even so, in a lot of companies, the CRO function is mainly focused on the sales team (the perceived main drivers of revenue). Ideally, there should also be a VP of RevOps position (which reports to the CRO) positioned on the same level with the marketing, sales and customer success leadership teams.
The two roles above should not be the same. The CRO should instead be working alongside the VP of Revenue Operations. People in RevOps don't need to be good at running a sales process themselves. The CRO needs to understand the commercial side and drive the business forward. RevOps needs to understand data, processes, and technology that will support GTM teams. RevOps Co-op community also considers this to be the ideal Revenue Operations team structure (see the Revenue Operations org chart below from their article on this topic).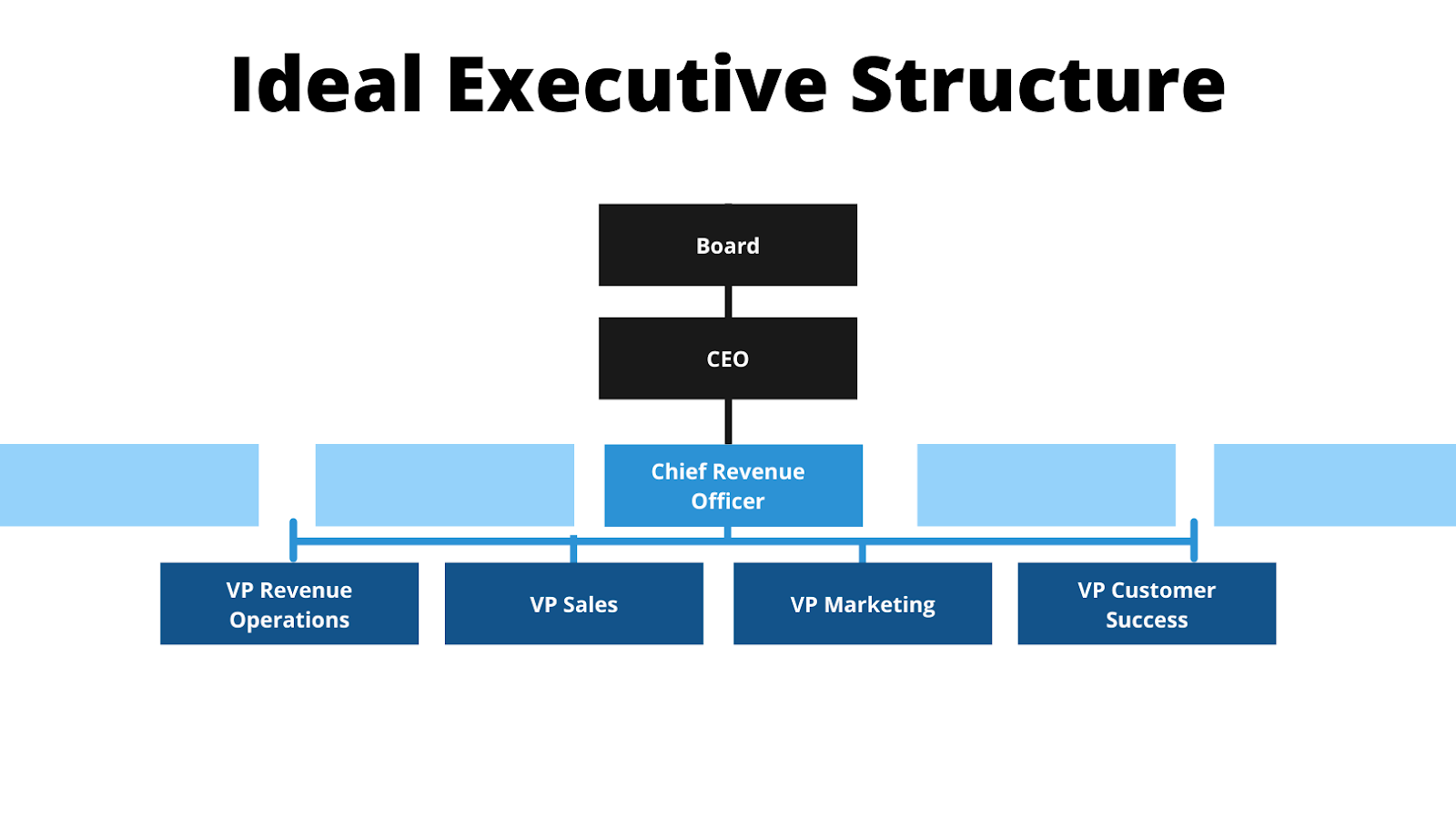 If the company is smaller and doesn't have a CRO, there might be a VP of RevOps (or a Revenue Operations Manager) that manages the Marketing, Sales & Customer Success Operations functions, ideally in an integrated manner, and reports directly to the CEO. Even here, in most fast growth or scaling companies, this role usually enables mainly the Sales team (again perceived as the main drivers of revenue) but may interact more with the Marketing & CS teams.
How to break the go to market team silos
Historically, most organisations separate their Marketing, Sales and Customer Success departments and this often leads to siloed data sets, tech stacks and processes. For example, in most organisations, sales operations report to the Head (or VP) of Sales, marketing operations report to the Head (or VP) of Marketing, and Customer Success to their own Head (or VP) of Customer Success.
Each team has its own set of goals, tools and priorities and, for the most part, it works. But the challenge with this way of working is that disparate systems mean friction points where sales conversions are potentially lost for a variety of reasons. And the issue isn't just the siloing of data. It also creates at least three clear friction points for the customer as they pass from one function to the other as they move through the sales process.
In order to reduce this friction and align the entire go to market function, companies often have to push this top down from the CEO to the function leads. However, for this to work there is a need for improved team skills, a shared customer journey, GTM process transparency, common definitions, a collaborative rather than a competitive approach, a shared performance accountability and a single source of truth.
The alignment process is highly accelerated by the introduction of a Revenue Operations professional in the go to market function. This can be a Revenue Operations Manager reporting to each department head (or VP) but, ideally, it should be a VP of RevOps on the same level with the VPs of Sales, Marketing and Customer Success. By having an overview of all departments, RevOps can spot and fix the numerous friction and drop-off points that siloed growth functions often have.
How to build your RevOps team structure
We need to keep in mind that different teams are going to need different resources. Ideally, you should start with a RevOps leader, thus try to get someone in who has experience in this area. Be brave in building your Revenue Operations team structure, as no one has all the answers as to what they're hoping to achieve with RevOps. RevOps is not an admin function, but rather a strategic one.
| VP MKT | VP MKT | VP SALES | VP SALES | VP CS | VP CS |
| --- | --- | --- | --- | --- | --- |
| Demand Gen | Marketing Ops | Sales Staff | Sales Ops | Customer Support | Customer Ops |
| Product Marketing | Marketing Tools | Sales Process Management | Sales Tools | Customer Success Managers | Customer Tools |
| Corp Comms | Business Analyst | Lead Management | Sales Enablement | Professional services | Customer Marketing |
| VP REVOPS | VP REVOPS | VP REVOPS | VP REVOPS | VP REVOPS | VP REVOPS |
| Operations Alignment | Customer Journey Alignment | Tool and Alignment | Data Alignment | Insights Management | Unified Reporting |
Source: HubSpot
It's important to note RevOps doesn't sit above or below the existing VPs of Sales, Marketing or Customer Success. The role acts as a unifying entity to ensure the tools and processes of each are best aligned for maximum results. Once RevOps is at play in the go-to-market arm of a business, it's easier to recognise sales, marketing, and customer success as a single function with a clear alignment between data, technology, and processes.
Larger organisations, and organisations with more complex needs or hierarchies, will absolutely want to hire a Revenue Operations leader or executive to sit alongside the executives of the other teams in order to foster alignment, drive strategic conversations, and to own and champion any RevOps-related initiatives across the business. While their Revenue Operations org chart might follow a more integrated model, like in the table above, their hierarchy could be different.
Typically, medium-sized businesses will begin by hiring for roles attached to specific teams (Sales Operations, Marketing Operations, etc.) and their Revenue Operations org chart will still look siloed. However, it's important to ensure that these roles are moving in lockstep with your internal RevOps committee to prevent the silos from forming within the business.
In early stage start-ups or small companies, RevOps, even though not defined as such, is usually managed directly by the CEO. This doesn't mean that the CEO is the operational person (although this could be true in the case of tech founders with experience in this area) but rather that the CEO manages existing (internal or external) resources that perform some of the RevOps functions (sales, marketing, customer support, etc.).
There is no set company size at which you should have a separated, dedicated RevOps team. It highly depends on the company's operations and what you're trying to achieve, especially if you're new in your RevOps career. Smaller, more agile companies, for example, may not have the resources to hire multiple roles in a RevOps team framework. However, they can take steps towards overall team alignment by establishing an internal RevOps committee formed by leaders within the different GTM departments.